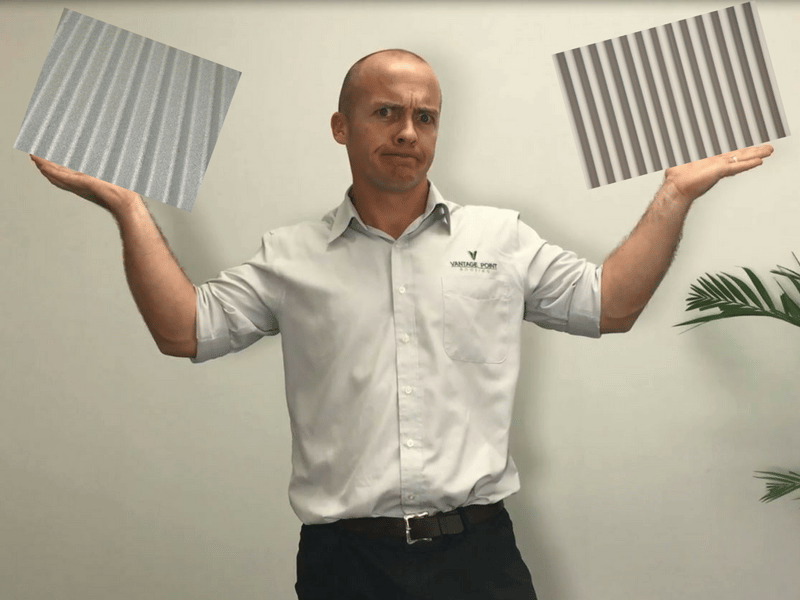 Hi everyone! We're back with our 2nd episode of V TV in the 8 part series -
8 Questions You Should Be Asking Before Replacing Your Roof.
These questions we will endeavour to answer are the eight most frequently asked questions we receive from customers who are thinking about replacing their roof. Over 8 weeks we hope to provide you with some valuable information to aid with any concerns you have or any decisions your are looking to make in regards to your roof.
In this episode we tackle another of our most frequently asked questions:
"Colorbond® or Zincalume®?"
Key Points
Watch the episode below to find out about :
The differences between Colorbond® and Zincalume®,

Colorbond roof colours, and

Cost differences
Brief Summary
The two main material options to choose from when replacing your roof are Colorbond or Zincalume. When making your choice it really comes down to your personal preference, however there are a couple of points you may like to think about:
Price - Zincalume® is a slightly less expensive option than Colorbond®
Colour - Zincalume® comes in one colour (silver finish) whereas Colorbond® comes in a range of colours. If you have a specific colour scheme in mind Colorbond® may be your preference.
Warranties - Genuine Bluescope Steel roofing products come with warranties from Bluescope Steel of up to 36 years*. For a warranty estimation of your desired material and location go to Bluescope's warranty estimator.
We hope this vlog helped to answer your questions regarding whether to install Colorbond® or Zincalume® . If you'd like a price comparison of what it would cost to replace your roof with Zincalume® versus the cost of replacing with Colorbond®, Vantage Point Roong can provide you with a free quote.
For more information on Zincalume® please see our blog here
For more information on Colorbond® please see our blog here
---
If you have further questions please write them in the comments box below, make an enquiry here or give our friendly team a call on 1800 476 634.
We'd be more than happy to help!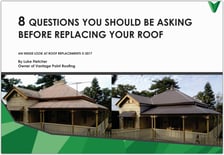 We have also created a complimentary ebook for the
8 Questions You Should Be Asking Before Replacing Your Roof webseries.
It contains more tips and details that we couldn't fit into our short videos but can be yours by downloading here!
---
<--- PREVIOUS: Episode 1 - Should I Replace or Repair my Roof?
---> NEXT: Episode 3 - Should you insulate your roof?
---
* Varies depending on specific material chosen and environmental conditions of the location the material is installed at
Updated 4th Jan 2020