When looking to have your roof replaced, deciding what colour to choose can be a difficult choice. Such difficulties include: trying to match each colour with the external colour schemes of your home, keeping the wife (or hubbie!) happy, and thinking about what colour is going to stay stylish for many years to come. Oh dear, sounds full on...
That's okay, we can help you out! If you want a simple option, have you heard of Zincalume?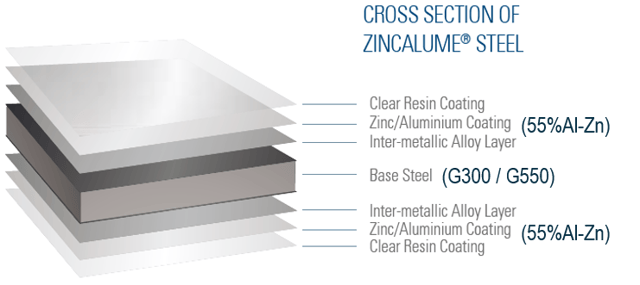 Essentially the main difference between Zincalume® and Colorbond® is the colour coating layer. Colorbond® has various colour options, whereas Zinclume® comes in the one shiny grey option. They share many of the same fantastic features, such as the 5 below:
1. RESILIENCE
Zincalume® is strong and durable, and resistant to corrosion. In fact it lasts 4 times longer than galvanised steel¹.
2. DESIGN FLEXIBILITY
It can be ordered in several different profiles and comes in a shiny grey colour. It can be curved for customised designs but is not coloured like Colorbond® steel.
3. ENERGY EFFICIENCY
Zincalume® is a thermally efficient product to use for your new roof. As well as keeping you and your family dry inside your home, it also functions as an added barrier against heat. Paired with insulation and ventilation you are looking at a very comfortable temperature in your home all year round.
4. LONG LASTING & EASY TO MAINTAIN
Just like Colorbond®, Zincalume® is also very easy to maintain. Once installed, a regular (six monthly) clean will keep your new roof in great condition for at least the 25 year warranty provided by Bluescope Steel. And bonus, it's recyclable so great for the environment!
5. BUDGET
It is the most cost effective, high quality, metal roofing material on the market in Australia, and so may work with more modest budgets. Along with it being long-lasting and easy to maintain, you will not be spending a fortune on maintenance once it is installed.
A final word of warning however- it is important to note that if you wish to install a new Zincalume® roof with lead flashings or copper piping, this is deemed as incompatible.
Would you like to know how much it would cost to replace your roof with Zincalume® or Colorbond®?
We can provide you with a quote which compares the two options to help you decide which way to go.
If you would like to find out more about Zincalume® or Colorbond®, or request a free quote, please call our friendly team on 1800 476 634 or contact us here!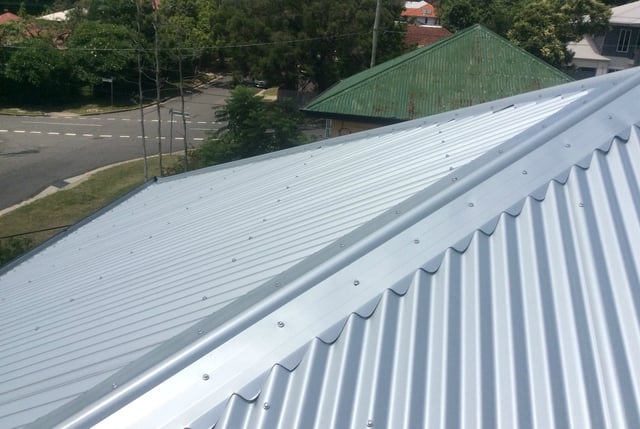 Zincalume® roof replacement installed by Vantage Point Roofing in Tarragindi, Brisbane
1. http://www.bluescopesteel.com.au/product/zincalume-steel-for-roofing
Source Image: http://bluescope.co.za/products/zincalume/