Long gone are the days of the basic corrugated 'tin roof'. Nowadays, the choice in advanced metal roofing materials for home-owners, investors, builders and business-owners has increased dramatically. With so many options around we have created a quick list to outline some of the great benefits of metal roofing we love and you will receive when choosing to go with Colorbond.
Benefit 1: It's lightweight
Let's face it - tiles are heavy! A Colorbond roof weighs approximately 1/10th the weight of a tile roof. Add to that the fact that tiles absorb water making them even heavier. As Colorbond® roofs do not absorb water, selecting one means less strain on you roof's frame and the walls and foundation of your home. Thus, the potential of structural building damage is decreased and you no longer have to worry about fluctuations in your roof's weight.
Benefit 2:

It is leak resistant



As previously stated, roof tiles absorb water. As Colorbond® steel does not absorb water, water runs off easily and quickly, without pooling, making your home low-risk for leaking.
Benefit 3: It's resilient and corrosion resistant
Metal roofs are highly durable. Colorbond® steel assesses it's product at actual outdoor sites around Australia, subjecting it to some of the harshest weather climates (extreme heat and cold, wind, rain and hail). It also undergoes corrosion and durability testing ensuring the roof you receive is made with the highest quality materials. Colorbond® roofing is corrosion resistent, termite-resistant and non-combustible.
It's

Benefit 4: It's safer
If you live in an area prone to bushfires it can be of comfort to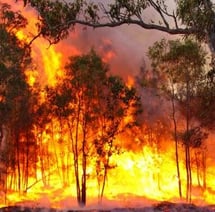 know that metal roofing will not catch on fire. It will also not catch fire if struck by lightning during one of our severe storms (view our Storm Season E-Book for more safety info). Being non-combustible, it provides greater protection to your home or building.
Benefit 5: It is long lasting
Metal roofs are well known for their long lasting lifespan. Even older roofs without the benefit of today's modern technology and extra features are still standing today. Currently, Bluescope Steel have a material warranty of up to 36 years for the Colorbond® Steel they manufacture, however a correctly installed roof can last many years more (in some cases anywhere between 40-70years!)
Benefit 6: It has great design flexibility
Metal roof sheeting is a highly flexible material to work with, adaptable to any design preference. Coming in a wide range of profiles and colours (See our blog on Colorbond® colour schemes), a new Colorbond® roof can be tailored to suit any style of home, office, or neighbourhood.
The sheets can be curved and shaped or used straight, and suit both contemporary as well as traditional and heritage designs. Colorbond® steel can also be a great solution for some of the wall cladding on your home or building.
Benefit 7:

It is great for flat roofs
If you have a roof, or would like to install a roof which has little or no pitch, metal roofing is the ideal choice for you. With other roofing materials water can pool when the roof is of a minimal pitch. With a metal roof, the water can still run off and flow down into your gutters easily, avoiding leaks.
Benefit 8: It provides value for money
Maintenance is easy with a metal roof. Regular washing (at least every six months) with clean, fresh water (often provided by Mother Nature herself) and the removal of any debris are pretty much all that is required to ensure your Colorbond® roof stays in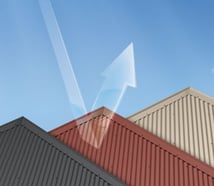 great condition and enjoys a prolonged lifespan. As an added bonus benefit because the
colour is bonded to the metal, it doesn't need painting as often as other metal roofing materials.
Benefit 9: It is energy efficient
You've possibly never heard of Thermatech® solar reflectance technology. It works by reflecting more of the sun's heat away from the roof, often meaning a decrease in cooling costs. It also provides added insulation, helping to keep your home cooler in summer and warmer in winter.
Benefit 10: It is environmentally friendly
You can enjoy green living with a metal roof as they are 100% recyclable (and often re-usable).
---
We have summarised this blog into an easy to read infographic you can download and print for a handy reference here!
If you would like a complimentary quote to replace your roof with Colorbond®, it is as easy as placing a quote request online, or calling our helpful staff on 1800 476 634.
---
Editor's Note: This article was originally published on April 27 2016 and was updated in January 2020 for accuracy.
Source Image: http://rainharvesting.com.au/knowledge-center/roof-surface/
Source Image: http://www.steel.com.au/articles/article-26--why-choose-colorbond-steel
Source Image: http://www.latrobe.edu.au/news/articles/2014/release/bushfire-study-shortlisted-for-eureka
Source Image: www.colorbond.com