(Source: Colorbond Australia 2017)
More often than not, customers are putting trust in their tradesmen to supply and install legitimate and high quality products without question. As a result, we find ourselves getting contacted every now and then from customers who have had import/low quality sheet metal fitted by roofers. So thanks to Colorbond, this blog will help you understand the importance of quality sheet metal/ roofing materials and how to decipher what metal is good, and the best to use.
By purchasing a COLORBOND steel product you can be guaranteed of its quality thanks to BlueScope Steel, one of Australia's largest steel/metal manufacturers. Depending on which type of product you have purchased, BlueScope offers warranties subject to application and eligibility criteria. You can ask our team about the pre-approved warranties and activation codes or visit www.bluescopesteel.com.au/warranties for more information.
So how do you know what product is BlueScope or Colorbond?
All BlueScope products are marked with ink branding as shown in the picture above. However, if you are ever unsure, or can't find the ink branding, make sure you ask your supplier or roofing company. For further detail, the Colorbond® website (2017) states: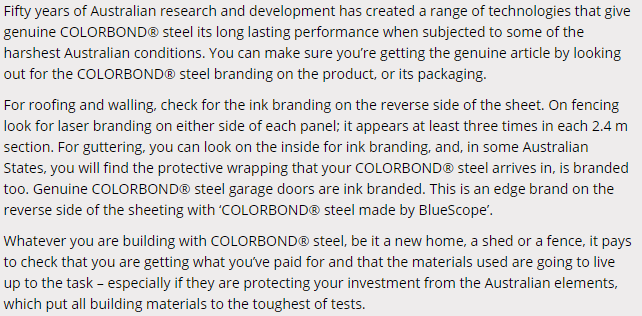 Here are some questions you might like to ask your roofing company:
Do you use only BlueScope products? If so, what choices are available for me through your company?
Can you help me to understand the importance of BlueScope products?
Can you assist me in activating the warranty on my BlueScope roof?
Furthermore, at Vantage Point Roofing, we can confidently say yes to all three questions. Give our team a call today to get your new roof looking superb, with genuine Colorbond® and installed by industry experienced roofers.
Call us on 07 3373 8593
If you are looking to have a new roof installed, or replace your old existing roof, you may want to read our blog on how to choose the best roofing company for you.
If you are ready to go with installing a new roof you may wish to explore colour options.