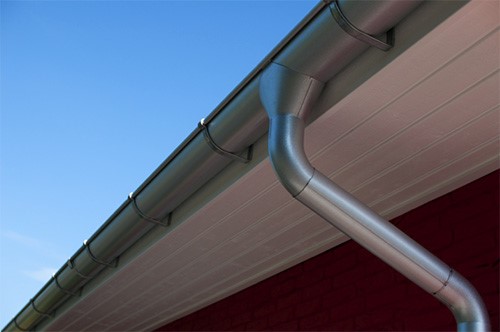 Vantage Point Roofing are your roof repairs and roof replacement specialists in Brisbane. However, while roof replacement with quality metal roofing is at the core of our business, we do more than just roof replacement.
Guttering and Downpipes
A good roof is only as effective as the quality of the guttering that surrounds it when it comes to managing rainwater. Blocked gutters, broken downpipes, gutters that have rusted away and leak are all quite useless.
Vantage Point Roofing have an expert team that have successfully been installing new guttering systems for many years. We understand just how important gutters are and we're here to help you get everything in order. Our team will also help you choose the right colours and style to suit your roof and the rest of your home.
We also remove old and broken downpipes, replacing them with brand new ones to effectively stream the water away. If it can be repaired, we will repair it. If not, the best course of action is to replace the downpipes.
Insulation
Metal roofing is becoming more and more popular due to its ease of installation, cost-effectiveness, durability and its inherent ability to reflect heat and light. It's the perfect roofing material to combine with insulation, and at Vantage Point Roofing we are your local insulation experts.
If you are booking us in for roof replacement, then this is the perfect time to have our team insulate your roof as well. We install Anticon blanket insulation beneath your metal roofing. This helps prevent heat entering the roof cavity as well as preventing the build up of condensation.
Asbestos Removal
Many Queensland homes built prior to 1990 have asbestos roofs. These days we know that asbestos presents serious health risks if any small particles become airborne. Therefore it's a wise course of action to have that old asbestos roof replaced with a brand new metal roof. Our team are fully insured experts when it comes to safe asbestos removal. So, if you have an asbestos roof and need roof replacement, arrange an appointment to meet with our staff.
Roof Ventilation
Metal roofing combined with the right insulation goes a long way towards keeping your home cooler in summer. However, hot air can still get trapped inside, and that's where a roof ventilation system can really help.
Not only will a ventilation system installed by our expert team keep your home cooler, you will also save bundles on energy costs over time. It's well worth considering, so give us a call for a friendly chat and we'll discuss what we can do for you.
Metal Wall Cladding
Metal wall cladding looks stunning and will increase the value of your home exponentially. It lasts a very long time and is extremely easy to maintain. The insulation inside the cladding will keep those power bills down, as well as leaving you cooler in summer and warmer in winter.