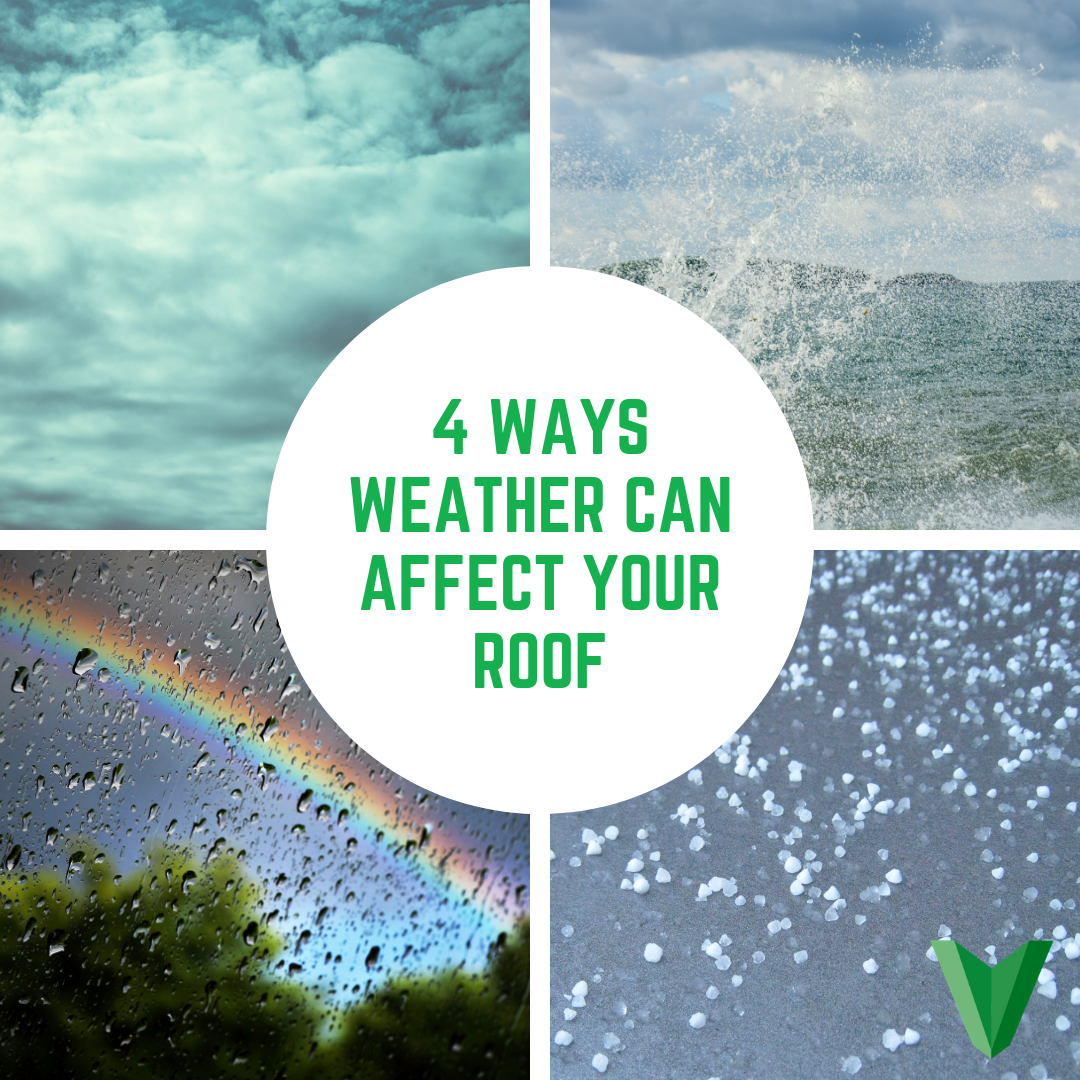 We often take for granted the role our roof plays in the defending our homes against the elements. While it can be at the top of our minds when that storm is rolling in, most homeowners tend to forget about their roofs unless obvious damage has occurred – especially when it impacts our daily lives. Roof damage however, can occur gradually and often goes unnoticed. This article provides a brief insight into how a few of Australia's most common destructive weather elements can affect your roofing structure.
Wind
Whether accompanied by a thundering storm, or simply a blustery day, strong winds pose a significant threat to the integrity of your roof. All roofing systems are designed to withstand the wind uplift ratings for the local area. This means that sheeting being torn from the roof and flung across the yard in strong gusts is an extreme, but rare occurrence. The more likely, yet least obvious cause for concern is that all sheets and flashings are susceptible to gradual movement - even when designed to standard and secured properly during installation. This movement may result in 'weak spots' within your home's first line of defence against the elements. Even the smallest breach can lead to water ingress and, over time, cause serious damage to its structural integrity. The good news however, is that metal roofs are generally installed with continuous sheets running from the eave to the ridgeline. This means less seams and less potential to exposure that other roof types, such as tiled roofs, which are riddled with seams all over!
Another thing to keep in mind is the damage that can result from trees rubbing against the roof or gutters in windy conditions. The abrasion can compromise the protective coating of the sheeting, eventually leading to corrosion. In this case it's best to ensure there is no contact between trees and roofing - so if you've got trees in close proximity, keep an eye on their growth and trim back as required.
Marine Environments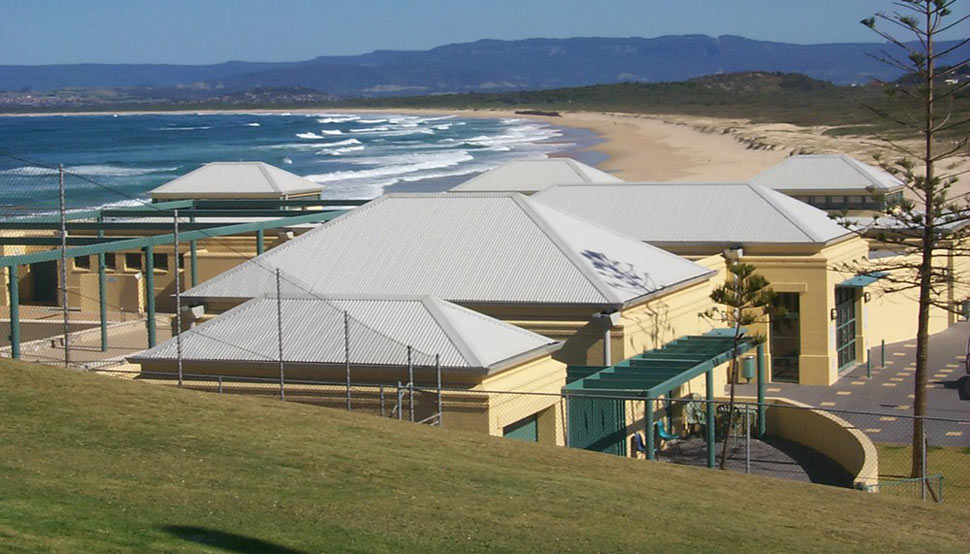 Image courtesy: http://www.steel.com.au/articles/article-17-effect-of-location-on-colorbond-steel
Corrosion in coastal regions is a particularly relevant issue in Australia, considering the majority of Australia's population is situated on its coastline. All metal roofs are susceptible to rust and corrosion over time, however the rate at which this occurs and causes substantial deterioration increases as the proximity to salty sea air and humidity decreases: the closer you are, the more susceptible your roof. Luckily however, there's no need to pack up and move to the country to ensure the longevity of your roof – the key is simply to ensure you're using the right products!
Metal roofing has come a long way in the last few decades, and Bluescope Steel has developed products such as COLORBOND® Stainless Steel and COLORBOND® Ultra, which are designed specifically to endure harsher coastal environments. To ensure your Bluescope Steel warranty is valid, and therefore the longevity of your roof, it's essential that your roofer is installing the right products on your roof. The diagram below guides you in product selection, but a good roofing company will be across these decisions, and keep you informed of their recommendations – but it doesn't hurt to check! Unfortunately, these products do come with a higher price tag – but the pain and money they will save you in the long run are well worth the initial outlay.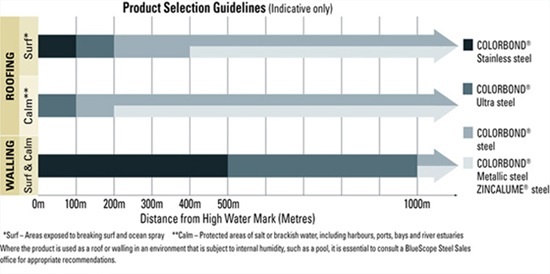 Image courtesy: http://www.steel.com.au/articles/article-17-effect-of-location-on-colorbond-steel
Rain
While a good downpour can do us a world of good, it's also the source of many homeowner's biggest anxieties. If your roof is not in the best condition, existing vulnerabilities, however small, can pose a serious a threat during heavy rain. Water damage caused by prolonged metal roof leak problems and wind driven rain can affect the structural integrity of your home, as well as create unsightly water stains and potentially hazardous mildew and mould. Seemingly minor problems can develop into major issues if left untreated - so keep on top of that maintenance!
Hail
Hail causes the most immediate and obvious damage to metal roofing. According to Bluescope, standard steel roofing absorbs the impact of hail and remains structurally sound, however it is possible that indentation and loss of the top paint coat (in the case of COLORBOND®) may occur. Dents to sheets, flashings, gutters and other roofing accessories may be unsightly, however the damage is largely cosmetic, and shouldn't grossly affect the structural integrity of your roof. Likewise, damage to the paint coat should not appreciably affect its corrosion performance. Concerns arise however, in instances where the roof is low pitch and significant denting causes ponding and debris accumulation within pans. In addition, indentation that causes substantial deformation to sheet laps can mean that the anti-capillary action is hindered, drawing water between the sheets. In both instances, corrosion may result – increasing the potential for leaks!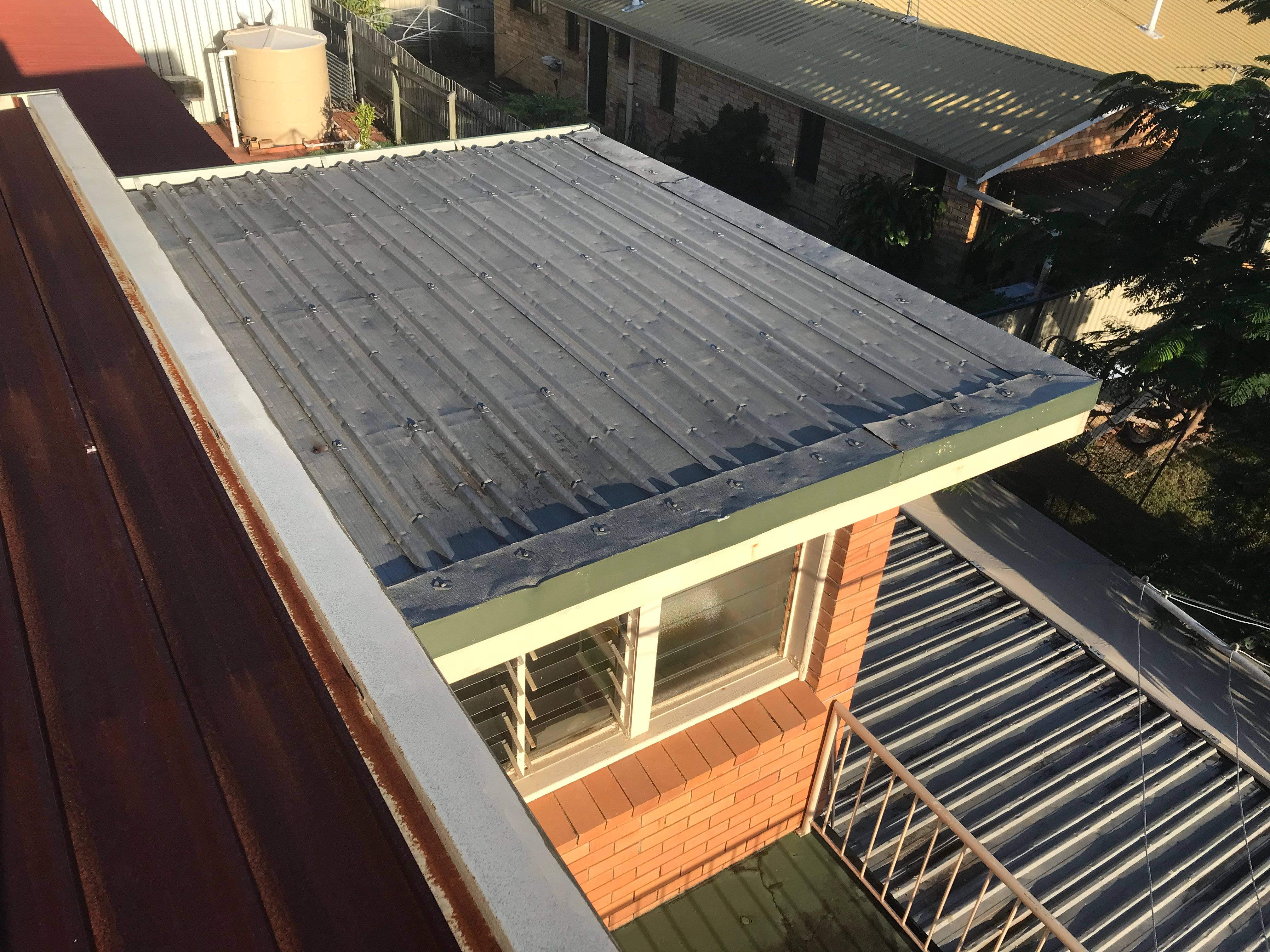 Indentation found on a roof following hail storm event in Brisbane.
What can you do?
Unfortunately, we can't control the weather day to day! As a homeowner however, there are ways to minimise the impact that weather events and general conditions have on your roof. Regular inspections by roofing professionals, especially following severe storms, can prevent small issues escalating to major ones if caught and treated early enough. Regular maintenance (VPR recommends at least 4 months – see here for further information on roof maintenance) to keep your roof and gutters in good condition ensures that they are better able to withstand even the harshest of elements, and continue to protect your home and family for many years to come!
---
We hope this blog has provided you with some useful information on the ways that weather can impact your roof. If you have any further queries, or would like to have someone inspect the current condition of your roof, please feel free to contact us via the comments box below, make an enquiry here or give our friendly team a call on
1800 476 634.
We'd be more than happy to help!
---
Updated 13th Jan 2020 to provide most current information.