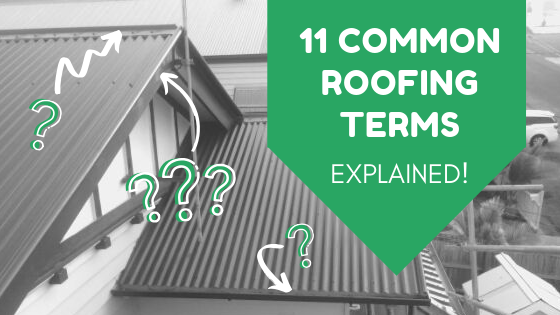 Have you ever gotten a quote, or had a chat to a contractor, and found it difficult to understand exactly what they were talking about? A good roofing company will take you through your metal roof replacement quote and make sure everyone is on the same page before proceeding, but preparing yourself with an understanding of some common roofing terms will make the process easier and less daunting!
Check out the helpful video animation below to arm yourself with a little roofing knowledge and boost your confidence making a decision about your roof! There's a list too, but it's definitely easier when you've got a visual so we recommend watching the video!
Video
List
1. Batten
Lengths of timber/metal fixed to roof frame, used to fix metal roof sheets to.
2. BMT
Base metal thickness - indicates the thickness & strength of your roof sheets.
3. Downpipe
A length of PVC/metal pipe connecting gutters to a storm water drainage system.
4. Valley
When the lower end of two slanted roofs meet to form an internal intersection.
(Just to be clear, we do know how the alphabet works! ... just mixing things up ;-))
5. Eave
The portion of roof that overhangs the boundary of the building.
6. Edge Rail
A temporary safety rail system to prevent workers falling.
7. Fascia
A timber board or metal sheath used to cover rafter ends and attach gutters to.
8. Fasteners
Any of a wide variety of securing components, used to fix roofing parts together
9. Flashings
Strips of folded metal used to prevent water entering around roof seams
10. Gutters
A length of metal folded into a 'U' shape, designed to catch water from the roof.
11. Lap
The area where rolled roofing or insulation overlap one another once installed.
---
We hope you found this blog about some of the common terms used by roofing tradespeople useful. Look out for 11 MORE Common Roofing Terms Explained - coming soon! Please don't hesitate to give us a call and have a chat with one of our friendly roofing experts if you have any further questions!
1800 476 634
You can also request a complimentary roof inspection and quote by clicking this link:
Did you find the information in this blog useful? Please comment below!
Updated 4th Jan 2020