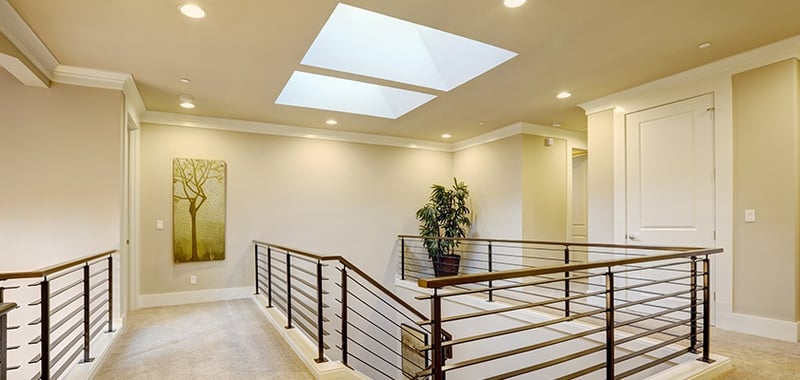 A roof doesn't just have to serve as a barrier to keep the weather out. It can also be a feature. With a roof replacement, just the look of your brand new roof will be enough to put a smile on your face. But there are other things you can do with your roof to really make it a highlight.
And one of the best ways you can achieve this is by adding skylights.
In days gone by, skylights were often used as a way to get natural light into a room that had no windows to the outside world. These days, instead of merely being practical, skylights have become trendy. It really is one of the best ways to highlight certain features within the home and really make them dazzle.
A great example of how skylights can be a feature is in the photo above. Here skylights have been used to great effect to fill the staircase with natural light, making the staircase a feature rather than just functional.
If your home has a loft, then skylights are the perfect addition to really give these quaint rooms an extra special touch of magic.
Skylights in the kitchen are becoming increasingly more common. Not only does it look trendy, but having that overhead natural light penetrating the kitchen area during the daytime makes it that much easier to prepare food for lunch or the evening meal. For similar reasons skylights also work just as well in bathrooms, allowing in natural light for doing make up or hair styling.
A skylight doesn't have to be an afterthought or something that's merely functional. With some planning, they really can become a feature in either the home or office.
The best time to install skylights is either when you are building a home or having a roof replacement. Vantage Point Roofing on the Gold Coast and Brisbane are your local roof replacement experts. We recommend highly versatile, affordable and stylish metal roofing. When building your new roof we can arrange to install skylights and/or roof ventilation as well.
Get in touch with our friendly staff today to discuss your project and your options.